Ricoh MP5125A IDE DVD+RW - Page 1
Introduction
The DVD+RW consortium after the first shipment of DVD+RW drives, ships its second generation DVD recorders that support both DVD+R and DVD+RW format. Ricoh is the first manufacturer that ships DVD+R/RW recorders with the model MP5125A. We compare the new MP5125A and the previous MP5120A to see what has changed and how compatible is the DVD+R against the DVD-R.

DVD+R: Physical format
The main change of the MP5125A is the adoption of the DVD+R writing. For now very few companies ship DVD+R media and for our tests we only got 5 pieces of DVD+R media from Ricoh. In short, the DVD+R has exactly same specs as with the DVD-R as Verbatim states:
DVD Media Specifications

DVD-R Authoring

DVD-R for General Use

DVD+R

DVD-RW

DVD+RW

Capacity

4.7GB

4.7GB/side

4.7GB

4.7GB

4.7GB/side

Laser Wavelenght

635nm

650nm

Numerical Aperture

0.6

0.6

0.6

0.6

0.65

Recording Layer

Dye

Dye

Dye

Phase-Change

Phase-Change

Reflectivity

45-85%

18-30%

18-30%

Modulation Amplitude

0.6min

Data Track Form

Wobbled Groove + Land pre-pit

Phase modulated wobbled groove

Wobbled Groove + Land pre-pit

Phase modulated wobbled groove

Track Pitch

0.74micro meter

Tracking Method (reading)

DPD

Minimum Pit Length

0.40micro meter

Data Modulation

8/16, RLL(2,10)

Error Correction

RS-PC

Channel Bit Rate

26.16Mbps

Scanning Velocity

3.49m/s

3.49-8.44m/s

3.49m/s

3.49-8.44m/s

Rewritability

N/A

1000

1000

Copy Protection

N/A

CSS

CSS

CSS, CPRM

CSS
As we can see the DVD+R format has almost the same specs as with DVD-R for General use. That means, that both DVD+R and DVD-R should have the same compatibility with DVD players and drives. Below is a graph that lists the major features of all DVD formats:
DVD+R at a glance:
- Single-sided (4.7 GB) and double-sided (9.4GB) discs option
- Uses a bare disc - no cartridge required
- 650 nm laser (numerical aperture 0.65)
- Constant linear data density
- CLV and CAV recording
- Write speeds from 1x to 2.4x DVD-Video data rates
- 'Lossless linking' anti-buffer underrun technology
The drive
The MP5125A supports 12x (CD) and 2.4x DVD+R/+RW writing, 10x re-writing, 32x (CD) and 8x (DVD-ROM/+R/+RW) reading. The drive also supports "JustLink" technology in order to avoid buffer underruns, for the CD format. Its writing speeds are: 2x, 4x, 8x, 12x (CLV) writing and 4x, 10x (CLV) re-writing.
The writing speed for DVD+R/+RW format is 2.4X CLV (X factor is now 1385Kb/s) which is equivalent to 20x for CD-RW drives. Although the media support both CAV and CLV writing modes, the drive incorporates the CLV recording. The differences are the same as in the CD writing, meaning that the overall writing speed with CLV will be quicker. However random access with CAV is quicker. Due to 'Lossless Linking' we don't have buffer underrun problems in DVD+R/+RW formats. The drive doesn't support Mt. Rainier in both CD/DVD formats. The next generation of DVD+RW recorders are supposed to support the DVD-MRW format (Mount Rainier at DVD format). Currently, the following writing formats are supported:
1) DVD+R/+RW: DVD-ROM, DVD-Video, Random Access Write
2) CD-R/RW: CD-DA, CD-ROM, CD-ROM XA, CD Extra, CD-I, Mixed-ModeCD, VideoCD, PhotoCD, CD TEXT and Bootable CD.
The media
Almost all manufacturers that sell DVD+RW will also ship DVD+R media. The DVD+R media can be written at 1X-2.4X. The media support both CLV and CAV recording technologies. CAV can be used in high-speed random access applications and CLV can be used in real-time recording applications. In addition, the DVD+R/+RW format utilizes lossless linking technology to support multi-session writing, allowing users to write (and read) additional data and video segments without finalizing the sessions. This feature enhances playback compatibility, saves time, and gives users the flexibility to use low-cost, write-once DVD+R discs for backups and archiving, as well as enabling different users to add recording sessions to the same disc.
The "official" DVD disc sizes are confusing because they do not follow the conventions used for other digital media. In the DVD world, 1 Gigabyte is 1,000,000,000 (109) bytes, whereas in the computer world, 1 Gigabyte is 1,073,741,824 (230) bytes. Therefore a 4.7-GB computer hard disk contains more data than a 4.7-GB DVD. In other words you can only fit up to 4.38GB of data, as with DVD-R/-RW/+RW media.
As with the DVD+RW, there will be two types of DVD+R media: "For Data", which can be used with drives that support DVD+RW media and "For Video" for stand alone Video players/recorders and drives. Both types include CSS written information in order to be compatible with all standalone DVD players. The DVD+R prices are expected to be around $9.99 for the single-sided 4.7GB discs and DVD+RW media available for $14.99.
The package
The package supplied included: the drive itself and 5 pieces of DVD+R media. The retail package will include: the drive itself, a quick start instruction guide, 1 piece of Ricoh 74min CD-R media, 1 piece of Ricoh DVD+RW & DVD+R media, 1 piece of Ricoh 74min HS-RW blank, audio cables and mounting screws. The attached software programs would be: Nero v5.5x, InCD v3.2x, NeoDVD v2.6x for DVD Video authoring, WinProducer v2.00 for Video editing and WinDVD v3.0 for DVD playback. The expected price of the drive is around $450. The DVD+R media costs $10 and DVD+RW media 15$. The European package will include 2 years of warranty.
The front of the drive contains all the necessary logos to separate it from normal CD-RW drives. The "Ricoh", "JustLink", "High-Speed RW" and "DVD+RW/+R" logos printed on it among with the drives codename "MP5125A" makes the difference. There is also only one led, the eject button and the headphone input jack/volume selector:
On the back of the drive there are the usual connectors (IDE interface, power), the jumpers for setting the drive as Master/Slave/Cable Select, the SPDIF output connector and 3 jumpers which are not used (factory reserved):

Installation
The Ricoh MP5125A was installed as Master in the secondary IDE BUS. The drive worked in UDMA-2 mode and after boot up, it identified itself as the "Ricoh DVD+RW MP5125". Under WinXP, DMA was activated automatically.
The drive was a 2002 model (not sure which month exactly), with an initial firmware revision of v1.00a. Ricoh send us later a newer firmware update of v1.13 that was used for all reading/writing tests. We used Nero v5.5.8.0, InCD v3.28 and CloneCD v4.0.0.0. beta 30 for the recording tests.
The latest build of Nero supports the "high compatibility" mode. This was included by the software companies to allow users creating DVDs that they can create them according to the DVD ROM standard. As you may know the minimum data on a pressed DVD is about 1Gb or 30 mm of data. In some DVD drives and players having less data may cause incompatibility issues. The feature allows the users to write the minimum amount of data and the actual user data should not be less than 1Gb or 30mm.
Ricoh MP5125A IDE DVD+RW - Page 2
CD Data Tests
SCSI Mechanic v3.0x results:
As you can see in the above graph, there is not any important performance difference between Ricoh MP5125A and Ricoh MP5120A, at least in this test. Both drives are fast readers and if we try to have a winner, we could say that the MP5125A is slightly improved.
Pressed CD results: (click here to see the CD Speed graph)
Using Nero CD Speed 0.84, we can see that Ricoh's average reading speed is 24.82X. The drive starts reading at 14.88X and ends at 32.22X. Confirming the previous test results, we say that both drives have the same behaviour.
Ricoh's MP5125A "seek times" results are also very good. The drive stays around 100ms in the random mode test.
CDR Media: (click here to see the CD Speed graph)
In the CDR media test, the scenario remains the same with Ricoh MP5225A to keep up with the good performance.
HS-RW media: (Click here to see the CD Speed graph)
For the RW tests, we used Ricoh's HS-RW media. Ricoh MP7320A gave lowest result (25.62x) among the 4 tested drives, since its speed was reduced to 34.23x at the end of the 74min:
DVD Speed v0.52: (DVD Speed graphs for DVD-ROM, DVD-R, DVD-RW , DVD+R, DVD+RW)
The Ricoh MP5125A has 8X DVD reading speed which is acceptable for our daily needs.
The seek times of the Ricoh MP5120A stays to what drive's specifications indicate- full stroke seek time of 261ms. Almost the same as for the CD format :-)
Ricoh MP5125A is faster than MP5120A and finished the DVD ripping test with an 8021 Kb/S average speed.
Let us now check the drive performance when reading DVD-R, DVD-RW, DVD+R and DVD+RW media. The drive lowered the reading speed with DVD-R media and is slower than MP5120A. Also, the MP5125A was slower than its brother drive in the DVD+RW reading test. On the other hand, the MP5125A can read DVD-RW and DVD+R media realy fast.
Ricoh MP5125A IDE DVD+RW - Page 3
CloneCD Reading Tests
- Procedure
We used CloneCD (v4.0.0.0 beta 30) and 5 original CDs - Euro 2000 (SafeDisc 1), No One Lives For Ever / Serious Sam (SafeDisc 2), Rally Masters (LaserLock 1), Desperados (LaserLock 2) and V-Rally 2 Expert (SecuROM 2) - in order to test the reading time of Ricoh MP5125A. We also tested the reading performance with backups of the original CDs, since the reading speed varies between original and backup media. The following picture shows the Ricoh's MP5125A reading/writing capabilities:
PSX Pressed Media
Ricoh MP5125A finished the PSX ripping fast after 100 seconds. However, the MP5120A was faster by 12 seconds.
SafeDisc 1/2 Results
Ricoh MP5125A showed a very bad performance with SafeDisc 1 protected CDs. The drive skips bad sectors very slowly, even compared to Ricoh MP5120A
With SafeDisc 2 protected CDs, Ricoh MP7320A continues its bad performance as mentioned earlier.
LaserLock 1/2 Results
Ricoh MP5125A continues its bad performance during the LaserLock protected CDs test.
LaserLock 2 CDs are even harder to backup for MP5125A.
SecuROM Results
Ricoh MP5125A was faster in the SecuROM v2 test but the performance is still in low levels and Ricoh MP5120A performed better in the same test.
Ricoh MP5125A IDE DVD+RW - Page 4
DAE Tests
Test Method
We used CD DAE 99 v0.3 beta and EAC v0.9 beta 2 software in order to check the DAE performance of the drive with various AudioCDs (both pressed and CDR). The posted DAE results are the average of both applications. We made a full CD Rip starting from the first to the last track of the CD. The Average DAE reported speeds are displayed in the test graphs.
DAE features
As EAC v0.9 beta 2 reported, the drive supports data "Caching" and aslo ts "Accurate Stream" and "C2 Error info". The specifications state that the drive can reach up to 40x DAE (max) with both pressed and CDR media.
Pressed AudioCD results
The DAE ripping speed of MP5125A is not as good as the specifications declare. The maximum DAE ripping speed is not high and is kept far away from 40x. The average 23.3x DAE speed is higher that what Ricoh MP5120A gave.
CDR AudioCD Results
Ricoh MP5125A continues to perform badly with CDR Audio CDs. The drive does slowdown in the outer tracks of the test disc and gives an only 17.9X average ripping speed:
EAC Secure Extract Ripping mode
After many requests from numerous visitors we have added the EAC's secure extract ripping mode results, which ensures maximum produced WAV quality. Note that for each drive we used the build-in detection function:
Tested Drives

Average DAE Speed (X)

Pressed

CDR

Ricoh MP5125A

2.9

2.8

Ricoh MP5120A

12.3

11.6
Advanced DAE Quality
Ricoh MP5125A completed the Nero CD Speed "Advanced DAE test" with a "100" quality score, although it produced 8 data errors. The speed results were low as expected.
The average reading speed was 12.05X and Nero CD Speed reports that it can read "CD-Text" enabled AudioCDs, among with "SubChannel Data" and Leadin data.
Bad CDR Media results
Despite the fact that Nero CD Speed Advanced DAE test stretches drive's mechanism to the max, we decided to do real life tests with a scratched disc. The disc was dirty, and with some light scratches, enough in order cause problems to most of the tested drives. We used CD DAE 99 software to rip the whole disc (756539616 sectors) and the results were very interesting:
| | | | |
| --- | --- | --- | --- |
| | Average Speed (X) | Errors | Errors Of Total Disc (%) |
| Ricoh MP5125A | 8.7 | 106648871 | 14.1 |
| Ricoh MP5120A | 8.7 | 31033674 | 4.1 |
Both drives finished the test in the same average ripping speed. The difference is that Ricoh MP5125A produced a larger amount of errors.
CD-Check Audio Test Disc
Digital Recordings CD-CHECK is a compact disc which allows evaluation of the CD player's "error correction headroom" (i.e. player's ability to correct data errors) and "tracking" (i.e. player's ability to stay on track despite of disc surface or other errors). CD-CHECK uses special digital signals in combination with disc error patterns arranged over five tracks. The five tracks contain a sequence of progressively difficult tests referred to as Check Level-1 to Check Level-5. The higher the Check Level passed the more reliable the sound reproduction of the CD player. A smooth, continuous tone of 20-seconds indicates the player passes that Check Level. Any clicks, interruptions, skipping or looping indicates failure of a Check Level.
CD-CHECK error sizes

Check Level-1

standard manufacturing errors

Check Level-2

0.375 mm

Check Level-3

0.750 mm

Check Level-4

1.125 mm

Check Level-5

1.500 mm
We tested the drive with the following procedure: We used WinXP Windows Media Player to playback the disc, and using headphones we listened all tracks. A continuous tone of 20 seconds plays in each track. If the drive playbacks without an audible pop or click occurring during playback of the tone it passes the check level. The tests are repeated five times. A result of 5/5 indicates that no pops or clicks were heard in 5 out of 5 playbacks of a particular track. A result of 0/5 means pops or clicks occurred during all 5 playbacks of a particular track. Digital Recordings provides the following interpretation of results:
· Level-1 Pass: Player meets minimum requirements
· Level-2 Pass: Average error correction
· Level-3 Pass: Good error correction
· Level-4 Pass: Very good error correction
· Level-5 Pass: Excellent error correction
Test Results
| | | | | | |
| --- | --- | --- | --- | --- | --- |
| Error Level | 1 | 2 | 3 | 4 | 5 |
| Ricoh MP5125A | 5/5 | 3/5 | 1/5 | 0/5 | 0/5 |
The drive did not manage to completely fulfill the 2nd level error correction requirements, and failed to successfully playback (no audible pops or clicks) the other level tones.
Ripping 90 and 99mins AudioCDs
The drive recognizes 90min AudioCDs but when 99 min CDs are inserted, it will stop reading at 86 min.
Reading/Ripping Protected AudioCDs
For the test procedure we used 3 protected AudioCDs, which we tested in both recognition and ripping (with CD DAE v0.3b/EAC v0.9 beta2) processes:
* Pressed AudioCD with Sony Key2Audio
* Pressed AudioCD with Cactus Data Shield 200 (Natalie Imbruglia - White Lilies Island)
* CDR AudioCD protected with Cactus Data Shield (CDS100) - made with Clone Audio Protector v1.1 (adding 30 secs lead-out)
| | | | |
| --- | --- | --- | --- |
| | Key2Audio | CDS200 | CDS100 |
| Ricoh MP5125A | Cannot recognize disc contents | Rips entire disc without problems | Reads all tracks as Data tracks - ripping impossible |
Ricoh MP5125A can handle only CD200 protected audio titles.
Ricoh MP5125A IDE DVD+RW - Page 5
CDR Tests
The Ricoh DVD+RW MP5125A supports up to 12x (CLV) writing. The drive includes "JustLink" as the main anti-buffer underrun protection. We did our tests with Nero v5.5.8.0 and CloneCD v4.0.0.0 beta 21 software. For the CDR tests we used: Creation 74min (12x), Taiyo Yuden 74 & 80min (24x), Mitsui 74min (24 & 16x), Mitsubishi Chemicals 74/80min (24x), and Verbatim/TDK 74min HS-RW media.
74 min CDs
We created "DataCD" job with data slight higher than 74mins (74:03:65). We burned the same job with both CDR-W drives: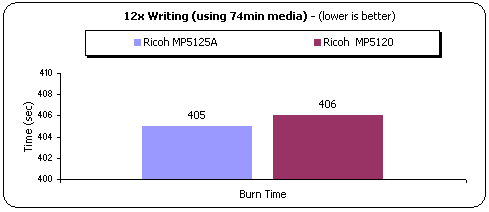 Ricoh MP5125A was just one second faster than the MP5120A. The difference is really small and we could say that the drives behave the same way.
The picture below comes from Nero when Mitsubishi Chemicals 24x media were used. That was the best burning result for 74 min at 12x speed, with the "JustSpeed" enabled.
80min CDs
As in the previous test, we created a DataCD (80:01:47) and used the same media for all burns:
In the maximum writing speed, Ricoh MP5125A was faster than MP5120A by 5 seconds.
- Writing quality
We used Mitsubishi Chemicals media and burned them at 12x with Ricoh MP5125A. We used Nero 5.5.8.0 as the CDR software. The produced CDs, were measured from DigitalDrives and results are illustrated in the following tables.
Brand

C1

C2

Average Burning Time (mins)

Max

Average

Max

Average

Taiyo Yuden 74min (24x)

17

1.6

0

6:45

Taiyo Yuden 80min (24x)

36

3.5

7:14
The C1 error rate at the 12x recording speed is lower for the 74min media.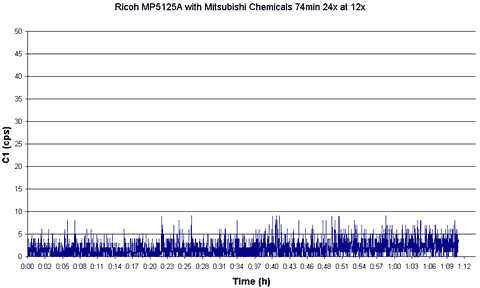 - Other features
| | |
| --- | --- |
| Overburning Writing | Up to 99mins |
| CD-Text (Read/Write) | Yes/Yes |
| 8cm CDs | Yes |
CloneCD Writing Tests
CloneCD v4.0.0.0 beta 30 reports that the drive supports the DAO-RAW feature. We performed our usual tests and we confirmed that the drive supports the DAO-RAW writing mode at the following CD protections: SafeDisc 1, LaserLock 1/2 and SecuROM 2 CD protections.
SD2 Support
For the SD2 test we used the "Emperor: Battle for Dune", "Max Payne", "Serious Sam - The Second Encounter" and "Medal of Honour Allied Assault" game titles. We used the drive both as reader/writer at the maximum reading/recording speed. Unfortunately, the produced backups did not work at any drive we tried to. With CloneCD v4.x "Amplify Weak Sectors" setting this can be overpassed.
Ricoh MP5125A IDE DVD+RW - Page 6
HS-RW Writing Tests
We used Nero 5.5.8.0 for writing CDs in maximum RW writing speed for all the tested drives in 10x HS-RW media. Both drive support fully the HS-RW writing standard:
The Ricoh MP5125A was 3 seconds slower than the MP5120. It needs 487secs to complete the test. The erase process for the MP5120 is only 30 minutes.
- Packet Writing Tests
We used InCD v3.28 for all Packet Writing tests. We used Ricoh HS-RW media and we formatted it. The formatting of the media takes around 10min. After formatting, we tested all four drives for their packet writing performance. The formatted disc had 530mbs of free space. We copied a 403 MB file (403.147 kbs) from a Hard Disk (on the same PC as the writers) to the formatted RW media-using explorer (we dragged and dropped) we completed the test twice to eliminate possible time measurement faults and user errors:
The Ricoh MP5120A gets the first place also in packet writing results. The drive outperforms the competition and delivers 7.27X writing speed. However at the reading part, Plextor PX-W1610A holds the first place.
- Packet Writing Under DVD+RW
Packet writing under DVD+RW format is quite easy. We used InCD v2.28 and as we inserted a blank HS-RW disc, the first window gives the chance to launch InCD or Nero Burning-Rom.
We selected the InCD choice and after formatting, the disc is ready for use:
We can fit up to 4.37GB in the DVD+RW disc, as we see from the drive properties:
Ricoh MP5125A IDE DVD+RW - Page 7
DVD Tests
- Writing Performance
We used Nero 5.5.8.0 and written the same amount of data for both Ricoh DVD+RW MP5125A and Ricoh DVD+RW MP5120A drives. The results are listed in the following table among with the average CPU Usage:
DVD Tests

Drives

Writing Speed

Average Writing Time (min)

Ricoh MP5120A DVD+RW

2.4x

23:02

Ricoh MP5125A DVD+RW

2.4x

23:05

Ricoh MP5125A DVD+R

2.4x

24:47

Pioneer DVR-A03

2x

28:25

Pioneer DVR-A04

2x

28:15
As was expected, the drives that support DVD+R/+RW format are the fastest DVD recorders. The MP5120A seems 3 seconds faster than the MP5125A for DVD+RW writing. When you use a DVD+R media, writing would be longer by one minute and 42seconds. The "high compatibility" option inside the CDR software doesn't extend the writing time. The DVD-R recorders stay below with 28:25mins, instead of 24:47mins of DVD+R format.
Here we can see Nero formatting the DVD+RW media before burning and afterwards completing the test at 23:05minutes.
The next picture shows the same amount of data, written at a DVD+R media. The drive now needs 24:47minutes:
- Erase Time Performance
Average Erase Time (mins)

Drives

Quick

Full

Ricoh MP5120A DVD+RW

1:02

11:31

Ricoh MP5125A DVD+RW

28secs

23:24
The Ricoh MP5120A has very low erase times - one minute for quick erase and 11mins for full erase. The MP5125A has lower quick erase time (only 28secs) but double Full Erase time (23minutes).
- Packet Writing Performance
We used the same file/methodology we are using for our CD packet-writing test. The Ricoh DVD+RW MP5125A needs less than 2minutes to write the test file. The drive performs as the specification state:
Packet Writing/Reading Tests

Drives

Average Writing Speed

Average Reading Speed

Ricoh MP5120A DVD+RW (2.4x)

2.4x

2.51x

Ricoh MP5125A DVD+RW (2.4x)

2.46x

2.38x
- Compatibility Tests
The compatibility tests done with the two discs, written with Nero 5.5.8.0, (Panasonic DVD-R and Ricoh DVD+R), and had content a DVD movie:
DVD-ROM

Drives

DVD-R

DVD+R

AOpen RW5120

Yes

Yes

Ricoh MP5125A

Yes

Yes

Pioneer DVR-A03

Yes

No

Pioneer DVR-A04

Yes

No

Pioneer DCR-111

Yes

Yes

LiteOn LTR-163

Yes

Yes

AOpen 1648

Yes

No

Pioneer-305

Yes

Yes

BTC BDV316B

Yes

Yes

Samsung SD-616F

Yes

No

Pioneer DVD-106

Yes

Yes

Toshiba SD-R1202

Yes

Yes
As the test results showed, all DVD-ROM drives read DVD-R media without any problems. The playback was excellent without any glitches. The DVD+R media had some issues with four drives. Two drives come from Pioneer, one from Samsung and one from AOpen. Future firmware upgrades can improve DVD+R compatibility with various DVD-ROM drives.
PS2 Compatibility

DVD-R

DVD+R

DVD-RW

DVD+RW

Result

Yes

Yes

No

No
We also tested the compatibility of DVD-R/-RW/+R/+RW with a PS2. The results showed that the PS2 can read both DVD-R/+R media without any problems but not the DVD-RW/+RW.
Ricoh MP5125 IDE CD/DVD+RW- Page 8
Conclusion
Positive (+)

Negative (-)

- Faster DVD recorder
- Can playback DVD movies
- "Just-Link" anti-coaster technology
- 'LossLess Linking' avoids buffer underruns problems for DVD format
- Very good data reading performance with CDs/HS-RW media
- Good CD-R writing quality
- Good reading/writing packet writing performance
- Good access times
- Very good DVD playback/reading performance
- Supports HS-RW standard (10x re-write)
- Supports DAO-RAW
- Supports reading of SubChannel data
- Supports CD-Text (reading/writing)
- Supports Overburning (up to 99mins)
- Supports Ultra-DMA 33
- 2 years of warranty

- DVD+R has less compatibility than DVD-R (with several tested drives)
- Doesn't support defect management (DVD+MRW)
- Failed to backup SD2 protected CDs
- Price is higher than DVR-A04
- DAE speed limited to 24x
- Bad DAE quality with dusted/scratched CDR media
Ricoh is the first manufacturer that ships DVD+R/+RW recorder, with the codename "MP5125A". It is the first drive that supports both DVD+R and DVD+RW among with CD-R/RW formats. The so called 2nd generation of DVD+RW recorders comes now with more features to compete competitor drives from Pioneer (DVR-A04). Making a comparison between those two drives we can say that
- MP5125 is faster in both CD and DVD formats
- MP5125A has a 2-year warranty
- DVD+R seems to have lower compatibility than DVD-R, at least with the tested drives.
- Again no protection against media defects is present (DVD+MRW)
- Drive and media are price more than DVR-A04
It is obvious that the MP5125A has many advantages against the DVR-A04 but also several disavtanges also. The biggest "problems" are the less compatibility of DVD+R and the higher price of the drive (DVR-A04 costs around $320 (bare drive), while MP5125A is expected around $430. The media prices are also much different, $1-2 for unbranded media, 5-6$ for branded DVD-R media, while DVD+R is expected to cost around $8-10. For sure the choice would be difficult. Again you must judge upon your own needs and decide which format is the suitable for you;-)